Saskatchewan Library Trustees' Association
Honorary Life Membership
Nomination Criteria and Nomination Form
1. Life Membership may be conferred by the Association upon a member or past member of the SLTA for distinguished service as a trustee in the library field at local, provincial, or national levels.
2. Nominations for the award will be solicited by the executive by advising Regional, Regina, Saskatoon, and Pahkisimon Nuye Ah Library System Boards each year, and that nominations should be made prior to January 31st of each year.
3. Each nomination shall outline the record of contributions of the nominee on the local library board, on the SLTA executive, and in other community activities.
4. Nominations made by a librarian must be supported by at least one trustee.
5. Nominations may be submitted more than once, but must be made each year.
6. Geographic distribution may be considered in making an award.
7. In a year when no name has been submitted, no award would be made.
8. Trustees serving on the SLTA executive will not be eligible for an award during their term of office.
9. Selection Committee shall be composed of the Executive Committee.
10. The recipient will be notified and invited to the annual convention banquet. The recipient's mileage and one night's accommodation at the convention hotel will be paid by the SLTA at the current government rate. The SLTA will also provide the recipient with two brunch tickets and $50.00 for incidentals.
To print a copy of the application form please click

here

.
---
Saskatchewan Libraries Conference 2015
May 7-9, 2015
Doubletree Inn by Hilton
Regina, SK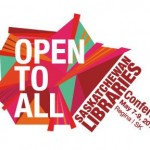 "Saskatchewan Libraries: Open to All"
Conference Registration begins February 1, 2015. Click here for more information.
---
How Valuable is Your Library?
---
THE SASKATCHEWAN LIBRARY TRUSTEES' ASSOCIATION (SLTA) IS A VOLUNTARY ASSOCIATION OF LIBRARY TRUSTEES FROM ACROSS THE PROVINCE WHO HAVE JOINED TOGETHER IN THEIR DEDICATION TO HELP PROVIDE LIBRARY SERVICES THAT WILL MEET THE NEEDS OF SASKATCHEWAN PEOPLE AND THEREBY IMPROVE THEIR QUALITY OF LIFE.
SLTA was established in 1967, made its first annual brief to the Minister in 1968, and was incorporated under provincial law in 1969.

SLTA represents 2,500 trustees representing libraries throughout Saskatchewan, in northern hamlets, rural communities, as well as towns and cities. All persons in Saskatchewan may access the information in these libraries, in whatever media they are provided, without a user fee. Resource-sharing and co-operation are the fundamental strengths of what is called Saskatchewan's "one province" library system – a system that is the envy of the country.

Municipal public libraries exist in Regina and Saskatoon. The seven regional library systems in southern Saskatchewan are Chinook, Lakeland, Palliser, Parkland, Southeast, Wapiti and Wheatland. The northern part of the province is served by the Pahksimon Nuye-áh Library.
---